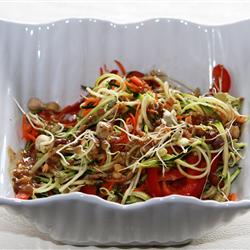 Four Servings
2 zucchini, ends trimmed
2 carrots

1 head red cabbage, thinly sliced

1 red bell pepper, thinly sliced

1/2 cup bean sprouts

3/4 cup raw almond butter

2 oranges, juiced
2 tablespoons raw honey

1 tablespoon minced fresh ginger root

1 tablespoon Nama Shoyu (raw soy sauce)

1 tablespoon unpasteurized miso

1 clove garlic, minced

1/4 teaspoon cayenne pepper
Directions
Slice zucchini lengthwise with a vegetable peeler to create long thin 'noodles'. Place on individual plates.

Slice carrots into long strips with vegetable peeler similar to the zucchini.

Combine carrots, cabbage, red bell pepper, and bean sprouts in a large bowl.

Whisk together almond butter, orange juice, honey, ginger, Nama Shoyu, miso, garlic, and cayenne pepper in a bowl.

Pour half of sauce into cabbage mixture and toss to coat.

Top zucchini 'noodles' with cabbage mixture. Pour remaining sauce over each portion.
Nutrition