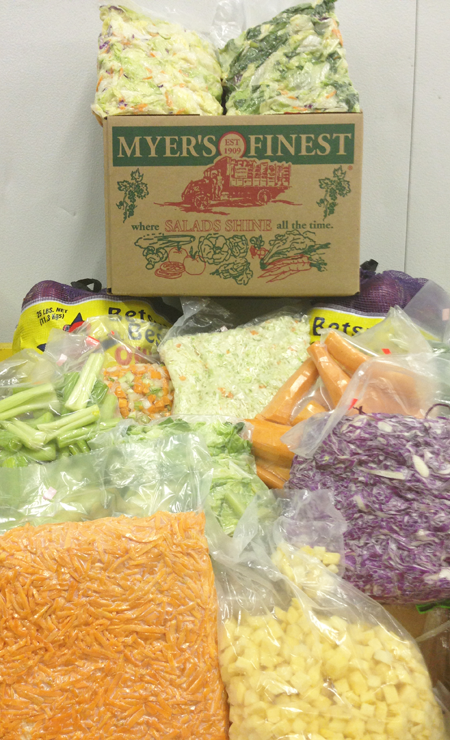 From our humble beginnings in Dover, NH to our state-of-the-art facility now located in Somersworth, NH, M. Saunders, Inc. has consistently strived to be modern, innovative, and adhere to the most stringent sanitary rules. We truly believe our facility is outstanding and we are proud of what we have accomplished.  We truly are a company that combines old-fashioned values with modern ideas.
When produce comes to our warehouse, it is  handled with great care.  A "kid-glove" approach is utilized in packing, loading, and unloading to prevent bruising or injury. Our trace back program documents each piece of produce from harvest to delivery - this includes storage temperature and shipping time frames. These high standards ensure that your produce arrives looking as good as the moment it was harvested.
Our goal is quality and consistency - a benchmark we have upheld for over a century.
Optimum humidity and temperature control is the objective for all of the produce as it is moved from the loading docks, the refrigerated trucks and the warehouse. Our expertise in climate control means your produce arrives with great flavor and texture and the longest shelf life possible.
We are consistently held to the highest standards by the USDA and FDA. Extreme care is taken to keep our facility clean, sanitized and to follow H.A.C.C.P Guidelines. Food safety is taken very seriously.
Myer's Finest - a subsidiary of M. Saunders - has been up and running for over 20 years. Myer's Finest provides a complete line of pre-cut vegetables and salad mix varieties, with only 24 hours noticed needed. All of the pre-cut vegetables are Kosher certified (KVH). Our "chop shop" is a cutting edge processing facility designed for the needs of the 21st century consumer. Myer's Finest  has been recognized and praised by the State of New Hampshire as a model food processing plant.