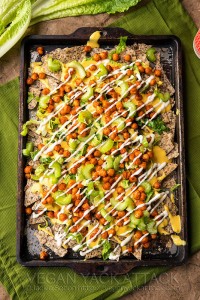 Ingredients
Roasted Chickpeas
1- 15 oz. Can of Cooked Chickpeas, Drained & Rinsed
¼ C. Your favorite Buffalo Sauce + 3 T., divided
Ranch Sauce
3 T. Vegan Mayo
2 T. Plain Vegan Yogurt
2 T. Raw Cashews, Soaked for 30 mins or more
2 T. Non-Dairy Milk
1 tsp. Lemon Juice
½ tsp. Onion Powder
½ tsp. Garlic Salt
¼ tsp. Dried Parsley
Pinch of Dried Dill
Pinch of Black Pepper
Pinch of Salt or to taste
Cheese Sauce
1¼ C. Vegan Cheddar Shreds
1 C. Non-Dairy Milk
Pinch of Salt
Toppings
½ C. Romaine Lettuce, Sliced into Shreds
⅓ C. Celery, chopped
8 oz. of Chips (I used Beanfields)
Instructions
Roasted Chickpeas
Preheat your oven to 375ºF. Toss the chickpeas in the ¼ C. of Buffalo Sauce until they are evenly coated. Spread them out on a baking sheet that is lined with parchment paper.
Bake for 12 minutes, and carefully roll them around with a spoon to get the other side crispy. Bake for another 12-15 minutes, then place them back in the bowl and toss with the extra 1-2 T. of buffalo sauce. Set aside.
Ranch Sauce
Place all ingredients in a blender and puree until completely smooth. This may take a couple of times of pushing the ingredients around, or adding another tablespoon of non-dairy milk.
This is enough ranch for the recipe, but it is hard to blend in such small amounts, so I suggest doubling it and using the rest of the ranch on everything else!
Pour into a cup or squirt bottle and set aside.
Cheese Sauce
Place the cheddar shreds and non-dairy milk into a small pot over medium heat. Bring to a boil and adjust heat to low-medium.
Stir frequently so that the cheese sauce does not get stuck to the bottom. Cook until the shreds are melted and add salt if needed.
Assembly
Spread the chips out over a baking sheet, I like "single layer" nachos so that all of the chips get toppings! It's more like 1½ layers, but you get what I'm saying.
Next, sprinkle the lettuce over the chips, and spoon the cheese sauce over it.
Then take the chickpeas and spread them over the nachos, along with the celery and an extra drizzle of buffalo sauce (that 1 T. left).
Lastly, finish with a healthy drizzle of the ranch sauce and serve! You can also place in the oven at 250F to keep warm for a few minutes if needed.